gotraveltoday.org – THE HISTORY OF HALMARK ORNAMENTS!!
Decorating Christmas trees became popular in America in the early 1800s as immigrants from Germany brought hand-made ornaments to America with them. In 1880, Woolworth stores began carrying ornaments although Mr. Woolworth was not too sure about the prospect of selling ornaments. Within 10 years, his stores were selling $25 million dollars worth of five and ten cent ornaments.
It was around 1973 when Hallmark decided to try their hand at the ornament business. It all started with some yarn ornaments and six glass bulbs. Hallmark now has more than 100 ornament series in addition to approximately 3,000 other ornaments that they have introduced over the years.
The Hallmark ornament designers are true artisans and design ornaments with subjects that have special meaning to them. Many Hallmark artists design ornaments that bring back heartwarming Christmas memories or design something current they love. Therefore, the consumer can relate to many of these charming Hallmark ornaments.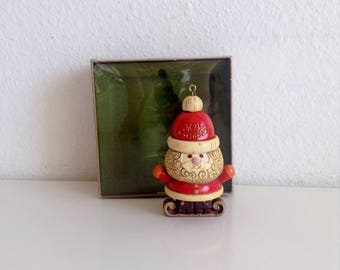 If you have ever seen a Hallmark ornament, you will agree that they have exquisite craftsmanship and the quality of the ornament is great. The small detail in Hallmark ornaments is amazing and contributes to their uniqueness and ability to capture unforgettable moments. There are ornaments for special occasions such as First Christmas Together, Baby's First Christmas, Mom-To-Be and New House. There are ornaments that are dated making them great keepsakes. In fact, Hallmark calls their ornaments Keepsake Ornaments.
Hallmark ornaments quickly reached collector status and collectors rush to their favorite Hallmark store in July of every year when the new collection premiers. Then in October the rest of the line comes out to keep collectors coming back. Hallmark has an Ornament Collectors Club that you can join for a reasonable fee. Your membership entitles you to choose two free ornaments that are collector-club-only ornaments. There are usually four and Club members have the option of buying the other two. All ornaments are coded so that collectors know by the symbol on them what year they came out.

Besides decorating the tree, Hallmark ornaments can be used as gifts. There is so much variety in the over-all collection that you ought to be able to find an ornament for anyone on your gift list.
Another use of ornaments is as decorations. Ornaments are cute added to a ribbon that is tied around the napkins or just as part of your centerpiece. You can set a pretty round ornament on top of a glass candlestick holder and it makes a lovely table setting. You also can hang them on a wreath for decoration. In fact, several years ago, Hallmark came out with a wreath that had hooks already on it to make it easy for you to decorate your wreath with ornaments.
Not all of the ornaments are Christmas related so you can use them as decorations or use them in shadow boxes all year round. Many of the ornaments are child-related so you can use them as decorations in your child's room. Themes such as Thomas the Train, Winnie the Pooh, Super Heroes, Athletes, Trains, Star Trek or Barbie are just a few of the selections you can make. They are not toys, though, and may have small parts. You may also find an ornament relating to different professions among the Hallmark collection.

Of course, you could not have Christmas without Nativity ornaments, creches, angels and other religious ornaments to commemorate the Christmas season. They, too, are lovingly crafted and wonderful reminders of the true meaning of Christmas. If you have never seen a Hallmark ornament, you might want to check them out. They will surely bring a smile to your face.